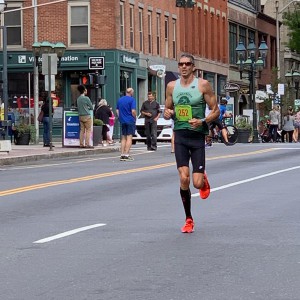 David Guzik November 2019 Athlete of the Month
Cross Country Grand Prix
September 28th, 2019 Ray Crothers 5k, New Britain Results
November 10th, 2019 Age Before Beauty 5k Litchfield
November 23rd, 2019 HTC 8k XC Challenge, West Hartford
December 14th, 2019 USATF National Club Cross Country Championships Lehigh University Bethlehem, PA
2019 CT Junior Olympic XC Championships November 10th
Information on the 2019 USATF-CT Junior Olympic Cross Country Championship can be found here!  All competitors must have a current USATF membership which can be done on www.usatf.org and then register on athletic.net You also need to verify the proof of birth by contacting the Connecticut membership chairman at 203-392-6813 (fax) or scan to jbwbarber0917@sccglobal.net DEADLINE TO VERIFY BIRTHDATE IS NOVEMBER 1, 2019 AT MIDNIGHT. A reminder there will be no day-of entries.
Future Olympians Elite Hurdles & Sprints Clinic
November 17th there will be a Future Olympians Elite hurdles & Sprints clinic at Southern Connecticut State University James W. Moore Fieldhouse New Haven, CT Register today at futureolympiansclinic.com

The 2020 Road Race Grand Prix Has Been Announced
 
Sunday March 1st, 2020 99.1 PLR Shamrock & Roll 5K
Sunday April 5th, 2020 Harvard Pilgrim Middletown 10 Mile
Saturday May 23rd, 2020 Delany Dash 4 Mile
Sunday June 14th, 2020 Litchfield Hills Road Race 7 Mile
Sunday June 21st, 2020 Branford Road Race 5 Mile
Saturday August 15th, 2020 Bristol 10k
Monday September 7th, 2020 Faxon Law New Haven road Race 20k
Sunday October 25th, 2020 Faxon Law Madison Half Marathon
Athlete of the Month
David Guzik was nominated as November's Athlete of the month. David has been running well and recently broke the Manchester Masters record at the Hartford marathon running a 2:47:52. For more information click here.
Please email brittanytelke@gmail.com to nominate a USATF-CT member for Athlete of the Month!